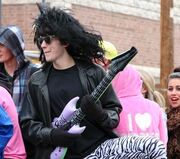 ClassicRobert is cool. He is known for his great prowess in impromptu debating, holds the impromptu debating badge in Mikal's Badge System, and has been in many live debates. He has also created two gauntlet tournaments. He has only lost one debate, and that debate was against larztheloser
FIRST GAUNTLET TOURNAMENT:
Challenger: RoyLatham
"TOWER": 
Thett3
ConservativePolitico
Imabench
[someone I forgot the username of, please put his name here]
Whiteflame (I think.....could be someone else)
RESULT: RoyLatham failed at the final debate between thett3 concerning the DDO's voting policies.
SECOND GAUNTLET TOURNAMENT:
Challenger: YYW
"TOWER":
Bluesteel
(I forgot everyone else, please post them here)
In the Beginning
ClassicRobert joined debate.org around May of 2013, making him one of the newer members of the community.
Getting a Wiki
After being one of many who was promised a wiki page and didn't get one, he was the only one to complain about it.