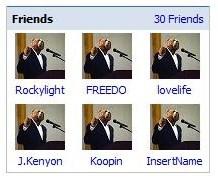 Avvie Week is a meme occurring on debate.org which takes places every few weeks or so in which a large sum of active users on the site participate in changing their profile picture to a common theme.
Past themes, from most recent to oldest, include:
Favorite super hero/villian
Favorite actor
Christmas
Favorite Singer
Cody Franklin's "bear behind a podium"
Halloween
Political statement
Album cover
Philosophers
Music
Ad blocker interference detected!
Wikia is a free-to-use site that makes money from advertising. We have a modified experience for viewers using ad blockers

Wikia is not accessible if you've made further modifications. Remove the custom ad blocker rule(s) and the page will load as expected.